WELCOME!     Austin, Tx ... USA... NOW BOOKING ALSO DUO-TRIO-FULL BAND 
LONESTAR ARTIST OF THE DAY! WIMBERLEY VALLET RADIO 3/16/22  KWVH 94.3 
PREVIEWED THREE SONG RELEASES FROM NEW UPCOMING CD ON OVER EASY WITH COACH
 ON LIVE RADIO- 3/9/22 WIMBERLEY VALLEY RADIO  KWVH 94.3 OVER EASY WITH COACH -morning show-on air studio performance
NEWS!!....
Patti Dixon 2021 & 2020 AUSTIN SONGWRITER OF THE YEAR! - AUSTIN SONGWRITERS GROUP -ADDITIONAL 6 SONG EP COMING SOON -"UP CLOSE" PRODUCED BY GABE RHODES-Austin, Tx.-soon to be released  
BIG BIG LOVE CD-COMING SOON- 12 award winning ORIGINALS -watch for single releases!
Earning eight 1st place fininshes in multiple categories, 12 total awards -ASG International Song Competition 
" IN EVERY SONG SHE SINGS, SHE POURS HER HEART INTO THE EMOTIONAL TIES
OF THE MUSIC AND LYRICS, TYING THEM TOGETHER WITH BRILLIANT WORD PAINTING."
-THE AMERICAN BARD'S GUILD   
Full Review at https://americanbardsguild.wordpress.com/patti-dixon/
STAY SAFE UNTIL WE MEET AGAIN! - CONTACT FOR BOOKINGS  www.pattidixonmusic@gmail.com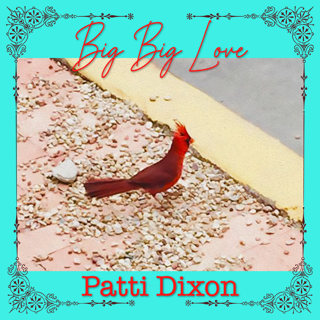 Patti receives 7 awards, on 6/1/19 for her original songs in multiple categories from Austin Songwriters Group's latest International Song Competition.  FIRST PLACE- Category-Singer/Songwriter Song- "I'm Leaning Your Way" FIRST PLACE-Category-Pop-song-"A Note With Your Name" FIRST PLACE-Category-Country-Song- "Tuscaloosa" FIRST PLACE-Category-Love Songs-Song "A Note With Your Name" FIRST PLACE-Category-Bare Bones-Song- "I'm Leaning Your Way" SECOND PLACE Category-Folk/Americana Song-"Warm Springs HONORABLE MENTION-category-Inspirational-Song-"Not This Time"
PATTI WAS NAMED  KWVH 94.1's  LONESTAR FEATURED ARTIST ON WIMBERLEY VALLEY RADIO-APRIL 2018. This followed a live studio performance on Coach's "OVER EASY" Show and continued airplay on the top 10 playlist to date. 
RECENT AWARDS: 2019, 2018, 2017,2016 
Featured as LONESTAR ARTIST April 2018 Wimberley Valley Radio 94.1    AUSTIN SONGWRITERS GROUP US & INTERNATIONAL SONG COMPETITION & TEXAS SONGWRITER SYMPOSIUM  CONFERENCE PERFORMANCES.  FIRST PLACE--POP FOR "EVERYBODY":FIRST PLACE  FIRST PLACE FOLK --" HOW OUR STORY GOES":,  FIRST PLACE COUNTRY -"THERE'S A GIRL": SECOND PLACE LOVE SONG-'LOVE IS PATIENT"', THIRD PLACE COUNTRY- "RAINING SUNSHINE",SECOND PLACE- SINGER/SONGWRITER
PUBLISHER'S PICK- Songwriter Showcase  awarded 2016, 2017, 2018. 2019 Publisher showcase Hill Country Ballroom, Austin, Tx.  
Original Song -Patti Dixon/Steve McMillen "'I'm No Hero" featured on Peace Officers Memorial Fund website for the Fallen Officer's Annual Ride For The Fallen.  Live performance Patti Dixon Trio   
THE LATEST CD, "ONE LIFE " 
This fully produced CD features thirteen originals available for complete download or direct mailing. Additionally, downloaded tracks are available individually as well. 
"CREATIVITY EXISTS, BUT IT HAS TO FIND YOU WORKING" 
- PABLO PICASSO